About Us >> Salem Cemetery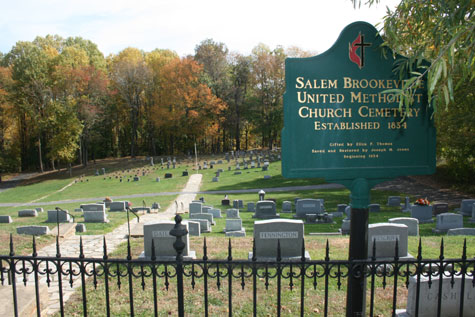 About Our Cemetery
Location
The Salem Cemetery is located on Georgia Ave. two miles north of Olney, MD and just past the Brookeville Farms Inn as you are entering historic Brookeville.
History
The Salem Cemetery has been in use and existence since 1834 when a one-acre parcel of land was sold by Eliza P. Thomas for one U.S. dollar to the trustees of the Methodist Protestant Church at Brookeville (forerunner of Salem) for the building of a house of worship and the burial of the dead. When walking the grounds, one can see some 200 small unmarked stones scattered throughout that are believed to be Civil War casualties. One stone is clearly marked with a date of birth of 1769 and date of death 1844, bridging the founding of Brookeville in 1794. Today, the cemetery is managed by a board of trustees who oversee the maintenance of the grounds as well as the sale of burial plots.
Purchasing Cemetery Lots for Burial or Interment
Persons of all faiths are welcome to have their loved ones buried in our cemetery. Cemetery lots are currently available for purchase at $1,400.00 each (but this price may change as conditions warrant). In-ground cremation sites are available for purchase at $600.00 each. Burial options include traditional burial lots, double-depth burials and in-ground cremation sites. All memorials (monuments, plaques, attachments, etc.) require prior approval by the Cemetery Board. Contractors are required to notify the Cemetery Board before memorial work is done in the cemetery.
For information about purchasing lots or memorial approval and installation procedures, please email the Cemetery Board at salem12cemetery@yahoo.com or call 301-774-7772. When leaving a message, give your full name, contact phone number and email address.
Visitors
The cemetery grounds are open from sunrise to sunset. Salem Cemetery is a place where tranquility and quiet are the desired norm; therefore, the Cemetery Board does not permit social events or recreational activities.
Rules and Regulations
To read a detailed list of visitor, maintenance and memorial rules and regulations, click here. The Cemetery Board may, from time to time, revise these Rules and Regulations.